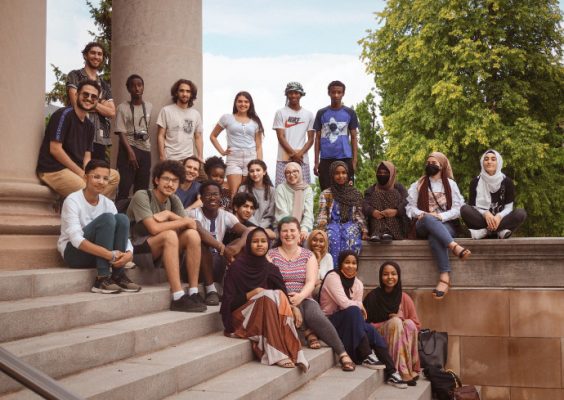 Narratio Fellows learn the art of storytelling through poetry and photography
Nineteen refugee youth from central New York recently completed an intensive four-week storytelling and leadership workshop on the college campus and North Side Learning Center in the city of Syracuse. This marked a milestone for the Narratio scholarship as it was the largest class in the program to date.
Launched in 2019 by Brice Nordquist, Associate Professor of Writing, Rhetoric, and Composition Studies and Dean's Professor of Community Engagement at the College of Arts and Sciences (A&S), and Iraqi-American author, poet and social entrepreneur Ahmed Badr, the Narratio Fellowship provides young refugees in the Syracuse region with opportunities to explore and represent a full range of their own stories and experiences through artistic expression. By sharing their stories in a way that is authentic and meaningful to them, fellows are able to show the world that they are not just defined by their travel experience.
While in previous years, fellows each explored a specific medium of storytelling (poetry in 2019 and filmmaking in 2020), this year's program has been expanded, allowing each fellow to study poetry or photography.
"We were delighted to increase the size of our classes and offer more programming options," explains Nordquist. "This year, we were able to welcome scholarship recipients from more schools, more community centers and different neighborhoods in the region. It is the most regionally diverse group of fellows we have ever had.
The larger cohort is a welcome sight for organizers after COVID-19 security protocols forced them to reduce last year's group to six from the inaugural class, which was made up of 11 fellows. The 2021 cohort, selected through an application process, includes Fowler High Schools Henninger, Nottingham, West Genesee and PSLA scholars; Ihsan School of Excellence; Onondaga Community College and Syracuse University.
Nordquist says a key to expanding the program was their partnership with National Geographic, which provided the scholarship with funding and connected Narratio with Vision workshops, an organization that partners with National Geographic to provide educational experiences to young people around the world, with a focus on photography and self-expression.
For this summer's program, photography cohort fellows worked with artists in residence Stefano Castro, who is a Colombian-American photographer, and National Geographic photographers Matt Moyer and Newhouse teacher Amy Toensing, both of which were brought in through the Vision Workshops.
Poetry Cohort Fellows worked with Khadija Mohamed, 2019 Narratio Fellow and Rising Junior in A&S, who guided the group through a storytelling project through poetry.
The scholarship will conclude with a trip to New York City later this fall, made possible through an ongoing collaboration with The Metropolitan Art Museum. This will be the stock exchange's first visit to New York since 2019, when the inaugural class performed a poetry reading at the Met's Ancient Near East Gallery. Last year all events were virtual due to the pandemic.
In addition to showcasing their poems and photographs, the fellows worked closely with environmentalists and curators from the Met. While visiting the Met, they will spend time in labs learning how to repair, conserve, and rebuild items. Nordquist says this mix of science and engineering with the humanities caters to many of the cohort with dual interests in STEM and the arts.
This spring, the fellows will also exhibit and perform their work at an event related to the Syracuse Symposium at the Syracuse University Humanities Center.
The success of the Narratio Fellowship has caught the attention of organizations that support resettled refugees in other cities, including Richmond, Virginia and Houston, Texas. Later this year, Nordquist, Badr and a group of Narratio fellows will travel to Virginia to meet with a group called Re-Establish Richmond, which connects refugees and new immigrants with the resources needed to establish roots and build community. The Narratio team will run workshops for youth and explore the possibility of starting a Richmond cohort.
While Nordquist is excited about the prospect of nationwide expansion, he says expanding the program locally to involve more young refugees in central New York City is still a primary goal for the scholarship.
"We want to continue to build this network and structure in Syracuse where we get more organizations sharing projects and resources and more students across the city feel like they have this shared identity amid their complexities. unique, "he says. "Investing in local students is the way to strengthen our community. "
the Storytelling scholarship is a collaboration of the North Side Learning Center, the College of Arts and Sciences Engaged Humanities Network and Narratio.org.