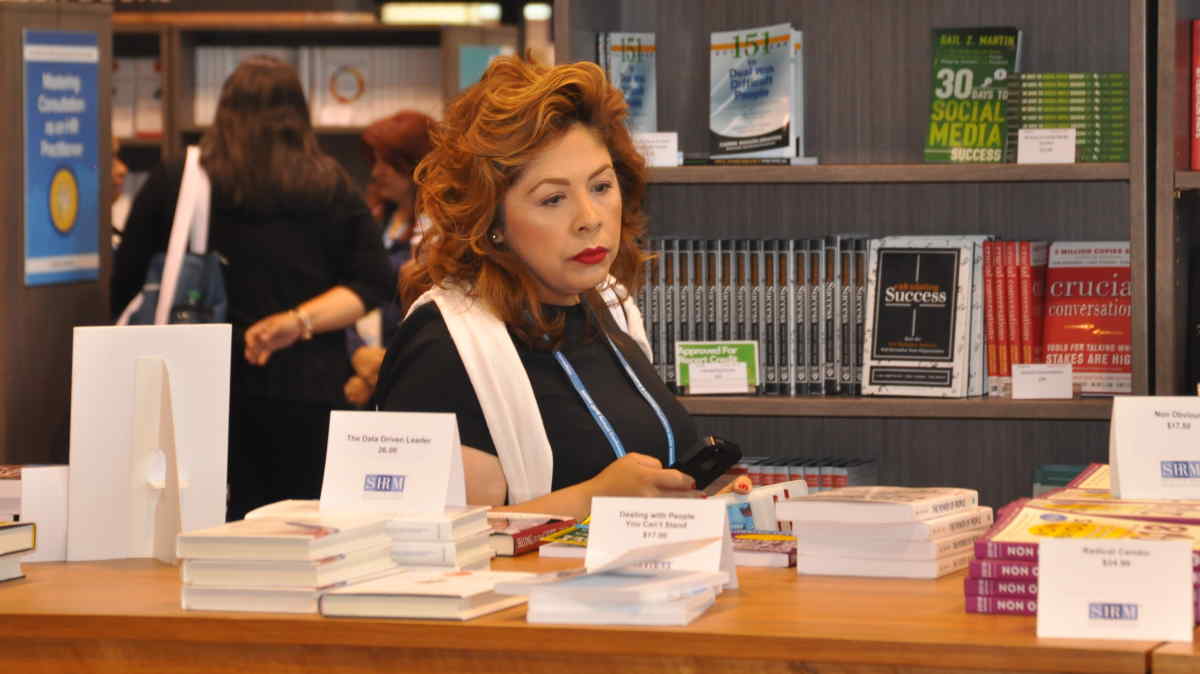 Have your books signed by the authors SHRM21
Simultaneous speakers signing their books will do so in the SHRMStore. Keynote speakers will have their book autographed outside the general session area.
September 9
2:10 p.m .: Janine Kurnoff, co-founder and chief innovation officer at The Presentation Company and author of Telling everyday business stories; Lisa I. Perez, SHRM-SCP, Founder and Chairman of HBL Resources and author of The Complete Manager Makeover: Transforming people into human resources; Husband ryan, founder and CEO of Advancing Wellness and author of The Thriving Hive: How People-Centered Workplaces Drive Engagement and Fuel Results.
September 10
8:40 am: Robin lawton, leadership strategist at C3 Excellence Inc., whose books include Mastering Excellence: A Leader Guide to Aligning Strategy, Culture, Customer Experience, and Measures of Success; Eric M. Ellis, President and CEO of Integrity Development Corp. and author of Conversations about diversity.
10:05 am: Michael phelps, record-breaking Olympic swimmer and author of NOTo Limits: the will to succeed and below the surface.
11:40 am: Ira S. Wolfe, president of Success Performance Solutions and author of Recruiting in the age of googleization.
11:55 am: Steve gilland, motivational speaker, whose books include The icing on the cake: what adds value; Michel Baran, main partner and responsible for digital solutions at inQUEST and author of SSubtle acts of exclusion: how to understand, identify and stop microaggressions.
12:10 p.m .: Magic Cook, CEO of Magie Cook LLC and author of Conscious success.
2:40 p.m .: Jodi L. Brandstetter, Head of Talent Strategy at Lean Effective Talent Strategies and author of Rental by design; Chris P. Dyer, founder and CEO of PeopleG2 and author of Remote work: rethinking processes, practices and strategies for engaging a remote workforce; Bill Ericson, co-founder of Workforce Science Associates and author of No pegs, no holes:
The psychology of elite performance.
4:55 p.m .: Bob Kelleher, founder of The Employee Engagement Group, whose books include STRONGER THAN WORDS: 10 Practical Employee Engagement Steps That Drive Results; Lester S. Rosen, lawyer and CEO at Employment Screening Resources and author of The safe hiring manual.
5:10 p.m .: Barbara Anne Glanz, president of Barbara Glanz Communications, whose books include Exhausted, confused and ticked off! : The hope of a new start when the change has made you; Tina Marie Wohlfield, SHRM-SCP, Founder and Chief People Strategist at TIMAWO and author of STOP Collaborate and LISTEN — Develop impactful HR partnerships through collaboration.
September 11th
8:40 am: Alden M. Mills, executive coach, former Navy SEAL and author of Unstoppable teams.
10:15 am: Johnny C. Taylor, Jr., SHRM-SCP, Chairman and CEO of SHRM and author of RESET: A leader's guide to working in times of upheaval.
12:10 p.m .: Karith foster, CEO of Inversity Solutions and author of You can be perfect or you can be happy.
12:25 p.m .: Steve gilland, see the September 10 list.
12:40 p.m .: Robert bug, president of Thor Projects and author of 28 books, including The six keys to confident change management: digital transformation success and more ; Terri Bogue, RN, COO at Thor Projects and co-author with Robert Bogue.
3:25 p.m .: Tamra Chandler, principal, E&Y and co-author of Feedback (and other dirty words): why we fear it, how to fix it; Britt Andreatta, CEO of 7th Mind Co., whose books include Wired to Grow: Harness the power of brain science to learn and master any skill; Laura Grealish, Senior Director, Personnel Consulting Services at E&Y and co-author of Comments (and other dirty words): why we are afraid of it, how to fix it.
3:40 p.m .: Raymond Lee, CEO of Career Minds Group and author of Pointing:, Stress– Free guide to career transitions; Lester S. Rosen, see the September 10 list; Jeffrey Korzenik, economist and author of Untapped Talent: How Second Chance Hiring Works for Your Business and the Community.
4:55 p.m .: Andrea Herron, SHRM-SCP, senior HR director at WebMD and author of There is an elephant in your office.
5:10 p.m .: Steve garguilo, partner of Cultivate and co-author of SURGE: your guide to putting any idea into action; Greg Schwem, president of Comedy with a Byte and author of TThe road to success is through the salad bar.
September 12
10:25 am: Viviane's blade, leadership and resilience expert at Experts in Growth Leadership Consulting, whose books include Ready for resilience: a leader's guide to getting through relentless crises; Mark J. Carpenter, chief storyteller at Mindset Strategic Leadership and author of Master Storytelling: How to turn your experiences into stories that teach, direct and inspire; Christopher D. Lee, CHRO at William & Mary University, whose books include Performance Conversations: How to Use Questions to Coach Employees and Improve Productivity, and increase confidence (without ratings!); Tim Sackett, SHRM-SCP, President of HRU Technical Resources and author of The Talent Fix: A Leader Guide to Recruiting Great Talent; Tracy Butz Stock, founder and owner of Achieve Positive Outcomes and author of HOLY COW! How to create an amazing workplace that fosters passion, performance and prosperity; Richard Finnegan, CEO of C-Suite Analytics, whose books include The power of stay interviews.
11:50 am: Bert jacobs, co-founder of Life is Good and co-author of Life is good: the book.