As the saying goes, "Passion is priceless", it cannot be bought or sold. In a quest to discover this principle,
Shillong Sunday
unfolds an intertwined story of one man's zeal, hard work and courage to climb the mountain of life to reach the pinnacle of success.
Presenting our readers with the story of a man in his thirties from a village of Markasa in eastern Khasi Hills who, despite lack of training and opportunities, refused to give up his passion for musical instruments.
His name is Markynsai Diengdoh, a skilled craftsman and luthier.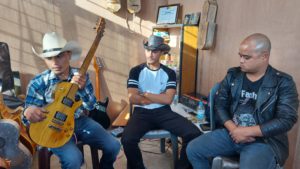 After performing less desirable jobs such as cleaning toilets, Diengdoh became a highly regarded luthier in Markasa and beyond.
The driving force: his spirit, his determination and his immense love for musical instruments.
Diengdoh is popular in Markasa and even beyond for its range of musical instruments – ranging from the traditional Duitara to Western instruments like the
ukulele
and the
banjo
.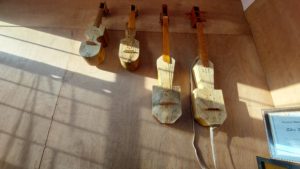 His passion for musical instruments develops very young but his limited resources prevent him from acquiring any training in this field.
The lack of formal training in the field forced him to focus on other trades such as carpentry.
"Yes, when I tried my hand at carpentry, I realized that I was really good at it (laughs). So I learned the trick of the trade and practiced this profession for a while," Diengdoh said.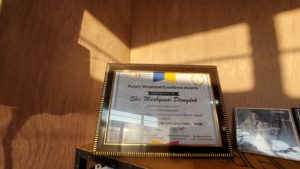 However, his love for musical instruments has always been intact thanks to the intervention of the Internet – YouTube bloggers and their videos, Diengdoh learned the art of making string instruments and continues to develop his craft.
At first glance, Diengdoh, with a cowboy hat, tough jeans, leather boots and a guitar in hand, looks like a country artist.
"What can I say, I like dressing like that; I like the style," he laughs.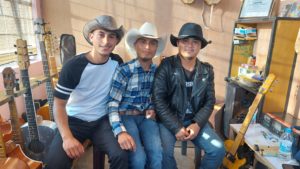 "I'm not a musician per se. I'm just a luthier. I appreciate my friends – Raymond Myrthong and Khrawkupar Nonglait, who are talented musicians, who also encouraged and helped me identify and specify the right melody for each of my instruments," he added.
Initially, Diengdoh limited his skills only to Duitara, but like many others, the pandemic-induced lockdown gave him a chance to hone his skills. He dabbled in acoustic and electric guitars; and with the help of Google and YouTube, he was able to hone his mastery of the art.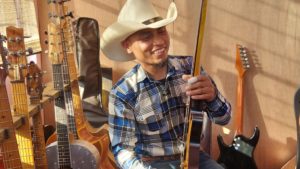 "I make a lot of instruments but I focus on acoustic instruments. They are a bit tricky to make because it produces sound through the soundboard. Measurements, choice of wood, tone and intonation are very important," he said.
"I never thought that one day I would be selling my own craftsmanship, i.e. handmade guitars. It's a good feeling to do something you really love and even better when you hear the melodious sound that comes out of it," he added.
A two-room workshop, filled with string instruments and other materials, is Diengdoh's second home. He and his two friends – Raymond Myrthong and Khrawkupar Nonglait, spend hours learning from each other – tuning and retuning guitars while sharing a joke or two for playtime once in a while.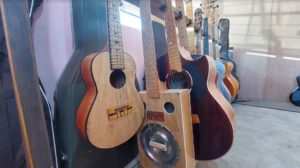 Raymond, whose dress is similar to Markynsai, is good at playing acoustic guitar, while Khrawkupar, wearing a black t-shirt and leather jacket, plays electric guitar.
"I'm lucky to have met people like Raymond and Khraw. They have been with me through thick and thin. My journey as a luthier would have been very difficult without them," Diengdoh expresses, turning to his friends with a playful smile.
His craftsmanship has also caught the attention of many eminent personalities like Aldous Mawlong and Lou Majaw.
It was a chance encounter, Diengdoh said when referring to meeting Aldous Mawlong.
He was introduced to Mawlong, who is secretary to the government of Meghalaya and president of the Shillong Fashion Society, by bureaucrat A Nongbri.
"Bah Aldous has played a huge role in inspiring me and pushing me to do better," he says and jokingly adds, "I bet you (Mawri) wouldn't have heard of me without him ( Mawlong)."
"We were visiting Markham one day and on the way my colleague wanted to meet Markynsai; and to my surprise I saw an array of musical instruments in his workshop," said Aldous Mawlong.
Mawlong thinks it's important to promote budding young talents, such as Diengdoh, by giving them a platform to showcase their expertise to the world.
"You see, talent is everywhere; talented and qualified people are not confined to urban centers and Markynsai is just one of many hidden gems in the state," said Mawlong.
With the help of top icon, Lou Majaw, Diengdoh has customers from as far away as the United States! Of course, there is no shortage of local customers either.
In a conversation with one of Markynsai's friends, Khrawkupar Nonglait, the value of companionship and respect for his hard work was emphasized.
"I want to tell people that every instrument here has been made with tremendous hard work, love and dedication. So it becomes difficult for the manufacturer to sell it at a ridiculous price. We must respect and support the work of the manufacturer and not negotiate as long as he does not derive any benefit from it," Nonglait said.
Asking what makes these instruments unique compared to those already sold on the market, Diengdoh reveals, "What makes it so different is the choice of materials I use." Educating us, he added, "Instead of the plywood that most companies use, I make the guitar out of solid wood, but a bit of craftsmanship and tone modulation is of course required. It's a tedious process, but the fruit of the labor is always sweet.
In his message to the youth of the state, Diengdoh said, "God has sent us into this world with a specific set of skills and it is up to us to identify them. We have to look for it. I had tried many jobs in the past – I was a carpenter, I cleaned toilets, I was engaged in other fields like painting and drawing – which was a learning experience for me", did he declare.
He emphasized the importance and significance of each profession and emphasized the need to follow one's heart and ensure that the burning passion to do what one loves is not quenched by fears and doubts.
Diengdoh's journey is just one of many inspiring and untold stories from the state.
Meghalaya, being one of the states in the country with a large population of young people, holds the key to changing the course of the future, provided they have access to the opportunities and platforms to mold, shape and hone their skills and their talents.