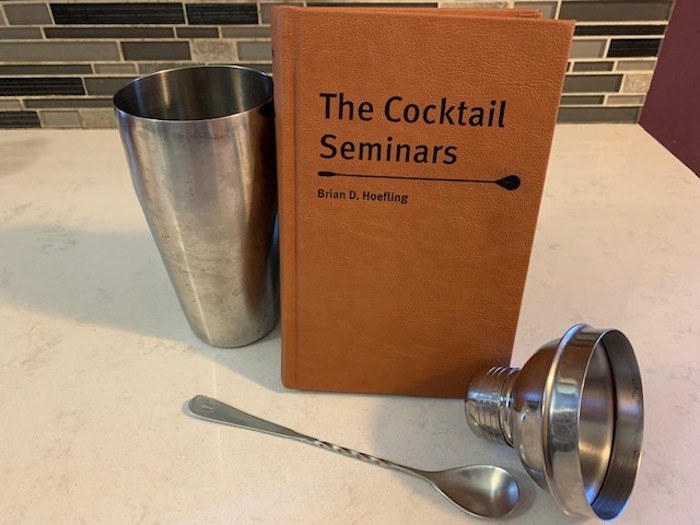 Book Review: The Cocktail Seminars by Brian D. Hoefling
Editor's Note: This book was provided to us as a sample review by Abbeville Press. This in no case, by our editorial policies, influenced the final result of this review.
The market is full of books on how to make cocktails. Whether you're a novice taster looking for tips and ways to drink your latest spirits craze, or a pro looking for new ways to interact with audiences, you can find something that fits the bill. There are even stocking stuffers and personal planning addons devoted to flavor wheels and writing your own tasting notes for the drinks you've chosen.
Brian D. Hoefling's latest book is a hybrid of the above categories. He takes his knowledge of cocktail making and distills it into a hearty serving of anecdotes, history, and recipes, all in the form of a fictional cocktail class. Although marketed for the novice, I found the writing, while well expressed and cheerful, a bit advanced for the alcohol layman.
That's not to say the laid-back weekend bartender won't benefit from a foray into the pages of this book. Recipes range from old-school recipes to forgotten classics, to the ultra-chic concoctions of the cocktail renaissance of the early to mid-2000s.
Book Review: The Cocktail Seminars by Brian D. Hoefling
Vital Statistics
Published by Abbeville Press, this 376-page hardcover is a hearty size without venturing into the tabletop book area.
Takeaway meals
The author has a very conversational voice in his writing. This makes for smooth playback and eliminates some of the heady manual-style formatting. It is divided into five main sections, or "Courses". The reader is guided through a brief history and technical breakdown of each cocktail with "exercises" analyzed in each section to challenge the reader's attention and creativity.
Where the execution missed its mark for the less professional drinker / mixologist is that it was a little harsh on the feel of the manual and skipped the opportunity to provide illustrations or pictures of the individual drinks. Not that a picture will show the reader what something looks like, but things like equipment, glassware, and even some ingredients could get a little visual attention to guide the reader more successfully. in the mixology hole.
Still, I found it to be an interesting and fun read. The cocktails themselves are well researched and the reader is prepared for success by having shopping lists provided with exact measurements for the individual components of each drink The humor and cocktail mixology is a great idea and I applaud this author for his voice and attention to detail. It sounds a bit snobbish and might turn away more laid-back home bartenders unaware of the Ivy League sense of humor that was enlisted in the delivery of this book. Because of this, it's more academic than fanciful, potentially missing the mark for a wider audience.
Buy WhistlePig whiskey at the ReserveBar