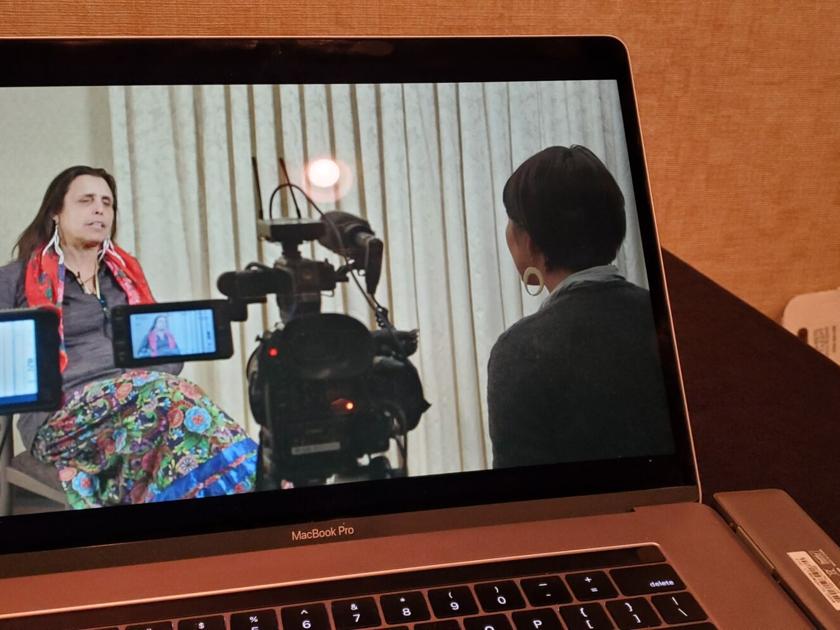 APPLICATIONS OPEN: Intensive 2021 Stories from Alaska Native Filmmakers for Climate Justice | Culture & Leisure
Native Movement and UAF's Department of Theater and Film are collaborating on a new intensive film opportunity, and applications are now being accepted for the Alaska Native Filmmaker Intensive: Stories for Climate Justice. This is an all-expenses-paid scholarship opportunity aimed at helping Alaska Native storytellers expand into digital media production. Applicants must be 18 years of age or older, be native to Alaska, and willing to expand their storytelling skills. Applications are accepted until August 9, 2021. To apply, please visit: https://www.nativemovement.org/filmintensive
This first Alaskan Native Filmmaker Intensive will help Native Alaskan storytellers develop camera, sound, lighting and editing techniques. Participants will connect with expert filmmakers active in Indigenous media and lay the groundwork for future creative storytelling efforts.
The theme for this year's session will be "Stories for Climate Justice". We encourage all participants to reflect on their relationship to their homes, lands and cultures, as we adapt to climate change and fight to protect the communities we love most. Students will also receive trainings on climate justice, action and advocacy, while increasing their communication and narrative framing skills.
Participants will connect with Indigenous film professionals and have the opportunity to develop relationships with industry mentors. In addition, there will be film screening opportunities available to participants in a number of indigenous gatherings, from the local to the international level.
"As our Native Alaskan lifestyles continue to be threatened by catastrophic climate change, we see how imperative it is to tell our stories firsthand, but also to express our hope and the reasons for which we want to protect our native lands. From an industry perspective, there is growing interest in Alaska from filmmakers and outside media, and we want to strengthen our ability to tell our own stories. – Princess Daazhraii Johnson, faculty member of the Filmmakers Intensive program
PARTICIPANTS WILL RECEIVE:
A monetary allowance
3 UAF College credits (pass / fail course limited to acceptance into the program)
Cinematic skills
Access to professional filming equipment
Connections with media creation experts
Travel, accommodation and food costs covered during the Fairbanks in-person session
"We cannot serve Alaska without first focusing our efforts on the Alaskan storytellers. Our film program continues to nurture, support and produce content by Native Alaskan filmmakers for this purpose. This course will be a unique opportunity to dive deep into the filmmaking process with experts by your side. – Maya Salganek, Faculty Member of the Filmmakers Intensive / Associate Professor of Film and Video Arts, University of Alaska Fairbanks
"The real story of climate change is constantly obscured by industry interests, bipartisan politics and disinterest. The real story of the climate is a story of people. We are in a time of deep crisis and we who live closest to the earth are experiencing the realities of melting permafrost, rising temperatures and threatened livelihoods. It is time for our community voices to be raised, amplified and heard. – Ruth Miller, Indigenous Movement Climate Justice Director
Advertising and more information contact:
University of Alaska Fairbanks
Department of Theater and Cinema
907-388-1080
Dates for Alaska Native Filmmakers Intensive 2021
Virtual sessions: MWF from September 27 to October 8
In person (Fairbanks): Tuesday October 12 to Sunday October 17
* Travel, accommodation and food costs will be covered during the in-person session.
Additional partners in this program include: Vision Maker Media and the Nia Tero Foundation
Indigenous movement is an Alaskan Native American and Native American nonprofit organization. We are committed to developing the power of people, based on Indigenous values, for the health and well-being of Mother Earth and all of her living beings.
Department of Theater and Film, University of Alaska Fairbanks offers the only film and theater degree program in Alaska. We have produced over 15 feature films with filmmakers from across the country. Through teaching and production work, our department prepares students for professional success in the film and theater industries, while educating students from all disciplines in the foundational skills of collaboration, communication and performance. creativity.